Punahou Class of 1959
45th Reunion - June 2004
Report from Diane:

"It was a perfect weekend and we are all so pleased that things went well. Each event was flawless and it seemed as if folks appreciated things and enjoyed 100% and that they felt special and that was our goal. Must admit to being exhausted Sunday afternoon - cried on the way home as I was soooo tired and also frustrated that the days were so fleeting and my touch points with class mates was so fleeting - I missed so many.
We had approx. 135 classmates in attendance with more than 1/2 from mainland and 16 from neighbor islands. A terrific turn out and with guests, we were at.... 115 for Thursday, 185 Friday, 175 Saturday reception, 145 for the luau, and 140 for the picnic Sunday. And, oh, for fun I counted up the participants (incl. golf of 20 & 27 in 2 days and 60 Iliahi outplanting Friday) and came up with about 920 participants to all Oahu activities!! So - for a 45th, those are good numbers in anyone's book.

.....The reunion weekend was incredible for me. Our committees worked flawlessly with lots of effort which made it all look easy. Not one hitch anywhere. We are a blessed class. Thank you all for participating in each and every way that you did. ....... Any ideas on how to make it better next time??? Let us know along the way.....
Laters. Aunty K."

---
Photos Index:

OFFICIAL 45th REUNION CLASS PHOTO

Pre-REUNION Events:  (June 5-9th)

MAIN EVENTS: (June 10th-13th)

Teddie and Chauncey Ching have made available to us their entire set of over 600 reunion photos. You can view a slide show or select and print individual photos yourself (free) or have them printed and mailed to you (cost). You must sign up to become a member (free) first to view/print photos. Click here -->> Sony Imagestation. PhotoPrint web site.

---

Special Mahalo to the following who have sent their reunion photos for inclusion on this web site:

Helen Larson, Teddie Lam, Frank Young, Judy Kleene, Nancy Newberg, Jan Collins, Tek Yoon, Dianne Helbush, and Midgi Weidnicht

Please email or mail your photos on a CD in .jpg format to be published on our class web site to.

jon_larson @ hotmail.com 4 Mateo Drive Tiburon, CA 94920

Please designate your photos by the event categories listed above. Mahalo!
Left to right: Bob Hons, Lindsey Kinney, Clinton Jamile,Bob Wilkinson, Denis Leong, Ben Samson, Roy Imai, Alex Jamile ('58), Stan Dzura, John Hoxie, Nancy Schoenke, Rick Eveleth, Cynnie Belle, Lael Prock, Kalei Cadinha ('61), Ray Schoenke, Duke Chung, Gwen Akutagawa Kometani ('58) Mike O'Malley, Aka Hodgins, Barb Chapman Norfleet ('61), Harlan Cadinha, and Dickie Furtado.
Rik Eveleth, Dick Furtado, Roy Imai and our own "Dr. Bob" Wilkinson on the 1st tee.
The view from Dick and Sandy's beach house at Puako.
Folks arrived Monday at noon in Kona. Kathleen Kangun and Ben, Judy Kleene and Enrique, Ellen Peterson, Joy Hudson and Pete, and Jon Larson. We had a great lunch at Huggo's Restaurant on the water in Kona with local residents Kelly Greenwell, John Moore, Cynnie Belle Ames, Stan Dzura and Robby Robertson who all came down to join us. Then we drove up to Dick and Sandy Ednie's beach house in Puako where we spent the afternoon, evening and the next morning kayaking and swimming in the incredibly clear deep blue local waters, and snorkeled and swam with the turtles. Some of us stayed at Robby's Ohana House nearby which he built himself out of an incredible variety of local and imported woods. Tuesday afternoon Dick and Sandy led us all on a hike to the rim of the Waipio Valley from Waimea along the famous Hamakua irrigation ditch trail, through the rain forest with all its incredible beauty. Late afternoon we drove to Hilo where we were hosted by Hugh and Mary Willocks to a late evening dinner and get together at the legendary Hilo Yacht Club where local residents Steve Yamashiro and Phoebe Matsuura joined us with their spouses. We stayed over at Uncle Billie's Hotel, the only locally owned hotel on the Island, and the next morning we drove to the Volcano House and met Linda Jane Irwin and her grand-daughter for a wonderful breakfast overlooking the entire Kilauea Crater. and a visit after to her new home nearby. Then we drove down the Chain of Craters road and hiked over the recent lava flows to see up close the lava flowing through underground lava tubes into the ocean at two places releasing giant columns of steam and fumes. Our timing was perfect as the lava flow activity increased three days before we arrived on Island. The heat emanating from the lava rock under our feet was incredible and eventually forced us back. We then returned to the cool Volcano Park area and walked through the Thurston Lava Tube and hiked the trail back through the rain forest in the rain, an incredible change of scenery and temperature in a short time. We had dinner at the #1 rated local restaurant Ken's Diner in Hilo, and caught the last flight back to Honolulu. We left many activities undone in the short three days, so the group is already planning a five day repeat trip before our 50th. Others are welcome to join us.
---
---
Thursday - OUT-OF-TOWNERS RECEPTION
Friday – Native Trees out-planting in the Waianae Mountains
Click here <<-- to see more photos of the Punahou 1959 EkahaNui native Hawaiian trees grove in the Honouliuli Nature Preserve in the Waianae Mountains.
---
Friday - ALOHA RECEPTION AT THE PACIFIC CLUB
---
---
" Strawberry shortcake, Huckleberry pie, V I C T O R Y.
Are we in it? Well I guess. Punahou Punahou YES! YES! YES! "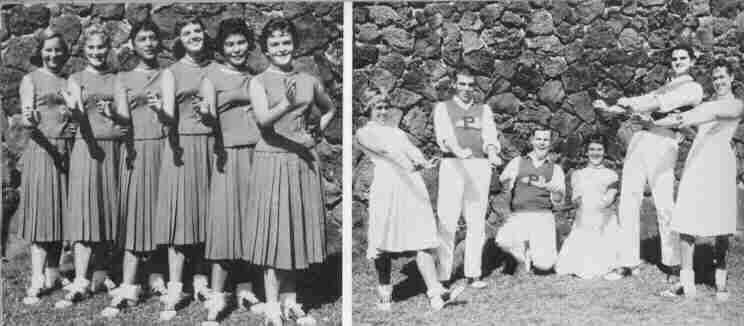 Oahu'a Oahu'a....
---
"Parson" Larson presides at the In Memoriam Ceremony which included the reading of prayers taken from memorial services of our four most recently departed classmates; Henry Ayau, Alethea Akioka, Dick MacMillan and Mary Liz Cornell. A special rainbow colored homing pigeon was released as the name of each departed classmate was read. The sprits of each of our classmates so honored disappeared into the sky high over the Koolau Mountains.
Click here to link to the In Memoriam section of our class web site to read the prayers and to see the names of all of our classmates honored in this ceremony.
---
---
---
Shared Beach House
---
"Wasn't the reunion wonderful. I truly enjoyed myself and seeing everyone so happy and talkative. We as a class seem to know how to party and enjoy each others company. Five years from now we will all be together again for more fun and laughter. What a wonderful way to celebrate four days.

All the committees did a great job making this reunion a success. Now to see the pictures everyone has taken will be a constant reminder of a great reunion."

Love and Aloha,
Helen Larson Dalton
---
"Our very special mahalo to all the Committee members who did such a wonderful job organizing each of the key events. The hard work and planning were much appreciated by ALL of us. Everything went perfectly as planned. In many ways this was our best reunion yet. The Big Island and Molokai pre-reunion get-togethers and the popular Golf outing set the stage for a wonderful four days together on Oahu. The hospitality of our Big Island hosts was beyond all expectation. And the intimacy of our shared beach house in Honolulu provided further opportunities to talk and hang out together. The overall participation numbers were huge. I tried to get around and talk with everyone although it is difficult. It was wonderful seeing some of our classmates for the first time since 1959. The weather was perfect. There is so much love and respect for each other among our class members. We are truly unique and blessed. I am already looking forward to our 50th."

Me ke aloha pumehana, Jon Larson

---

"Rob, We can't thank you enough for the wonderful hospitality you showed us on the Big Island. Arranging the group lunch Monday at Huggo's, meeting us at the airport, leading the way up to Puako, and providing your Ohana house for Ellen and Kathleen's stay over that night. Your hospitality made us all feel welcome and right at home from the start. Mahalo for your generosity. Take care. I hope we can do it all again in 5 years for our 50th. Aloha nui, Jon and the gang...."

"The 50th it will be. It was a pleasure to kokua da gang while in God's country. Aloha no, Rob ---"

---

(please email your own comments to jon_larson @ hotmail.com